With so much to do, Only in Scotland is there a reason to stay longer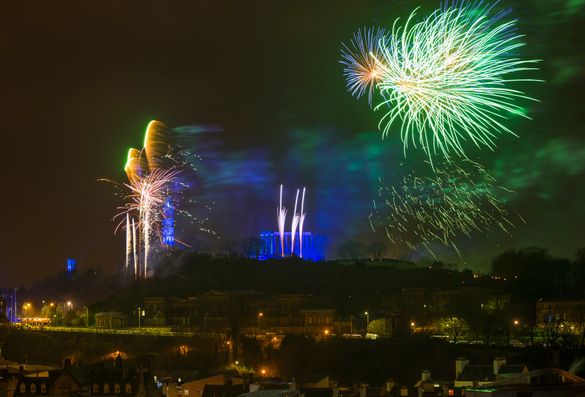 From befriending reindeer in the UK's only wild reindeer herd, to toasting the national bard with a dram; to partying through a three-day Hogmanay celebration, to basking in the glow of a traditional Celtic fire festival – adventurers, comfort-seekers and revellers will never be short of unique and exciting experiences in Scotland this winter.
Scotland is a beautiful and exciting place to visit all year round, but there is something special about driving through a mist-covered glen or catching a sunset over the snow dusted mountains. As the days get shorter and the temperature drops, Scotland doesn't go into hibernation… the party is just getting started.
Here is just a pick of the one-of-a-kind and unforgettable events and experiences happening from this month, into the New Year:
Feel the heat (of a fire festival)
Winter in Scotland might sound like a chilly time, but there is a lot to experience off-season. From October onwards, there is a huge variety of unique and traditional fire festivals held all over the country. Catch the Samhuinn Fire Festival which celebrates the Celtic New Year on top of Edinburgh's iconic Calton Hill with a dramatic mix of dance, immersive theatre and fire play. Head north to Up Helly Aa Viking Festival in the small town of Lerwick in the Shetland Isles and see the burning of the long ship on the last Tuesday in January (one of 12 fire festivals taking place in January*). These unique experiences guarantee to keep participants and spectators alike warm on a cold night.
Scotland is known for its wide range of outdoor activities and that doesn't stop in winter, in fact- it enhances it. Dust off the cobwebs on 1st January with the famous Loony Dook in South Queensferry by joining the brave participants in throwing themselves into the freezing Firth of Forth waters. Why not try curling in the country it was invented in or ski and snowboard across the Cairngorm mountains? Scotland is home to five world-class ski resorts.
Getting festive
Scotland loves a festival, and they're not just for the summer months. Celtic Connections brings the very best of Celtic, folk and roots music from all over the world to Glasgow. The 18 day-long festival event draws over 2,000 musicians and uses over 33 of the UNESCO City of Music's iconic venues during the month of January. The Oban Winter festival is a 10-day long event that is jammed pack full of markets, parades, live music, exhibitions and much more. Oban is compact and easy to get around, so this festival is a great opportunity to get in the festive spirit and discover all the brilliant attractions that Oban has to offer.
'Hogmanay', or New Year's Eve, is a uniquely Scottish experience, and Edinburgh is known all over the world for throwing legendary Hogmanay celebrations along its cobbled streets and its residents and visitors dancing into the early hours of the morning. However, the rest of Scotland is also embraces this time to party like nowhere else: head north and party at the Red-Hot Highland Fling in Inverness. This free family-friendly event attracts over 10,000 spectators and brings the very best Scottish music acts to the Highland Capital to help bring in the New Year. The exciting and traditional Stonehaven Fireballs Festival lights up the small town on the east coast with a procession of approximately 40 men and women swinging fireballs above their heads when the clock strikes midnight on New Year's Eve.   Also, don't forget the 'First-foot' custom, which arguably began in Scotland: it's said that the first-footer must be out of the house before the clock strikes midnight, then cross the threshold to welcome in the new year, bearing gifts. Traditional items for the first-footer to carry include pieces of coal, a coin, salt, bread, and a 'wee dram' of whisky.
Making new friends
Winter in Scotland is a great time to spot wildlife and make a furry friend or two. The Cairngorm Sled dog Centre in Aviemore is the UK's only designated sled dog centre which offer visitors the ultimate sled dog experience, this involves helping the kennel with their daily routine and a 50-minute training session with the huskies through remote forest trails- a one of kind way to see the cairngorm mountains. Visit the UK's only wild reindeer herd in the Glenmore Forest Park with an experienced herder and pet and befriend the cute and cuddly reindeer- this unique experience will get any scrooge feeling festive in no time.
Burns, baby, Burns
 It's not just Christmas and New Year we celebrate in Scotland. On 30th November, Scotland celebrates its patron saint, St Andrew, with a wide variety of events and celebrations all over the country from parties in the town named after the saint himself to rural ceilidhs on the Isle of Skye. Fun lovers are never far away from a party at this time of year. Another thing Scotland is celebrated for is its creativity so, on 25th January each year there is Burns Night where haggis, whisky and famous prose are combined to celebrate the life and work of our national bard, Robert Burns. The first ever Burns Supper was held in July 1801 when nine of Burns' close friends gathered to mark the fifth anniversary of the poet's death. The evening took place at Burns Cottage in Alloway and included a meal of Haggis, performances of his work and a speech to honour him. After the success of the first night, it was decided that the friends would hold a similar evening on his birthday (25th January), thus beginning the tradition that we still celebrate today. There are lots of Burns Suppers and events held all over the country on this date such as Burns & Beyond in Edinburgh, The Big Burns Supper in Dumfries and Burns Night at Glamis Castle
For more information on trips to Scotland, please go to www.visitscotland.com
Check out the new Tool Guide Tales films, featuring places such as the new look Aberdeen Art Gallery (due to open on Saturday, 2 November), at www.youtube.com/visitscotland
Follow and Share with Jetsettersblog.