Wonder Off the Beaten Path With Kintetsu Railway in New Zealand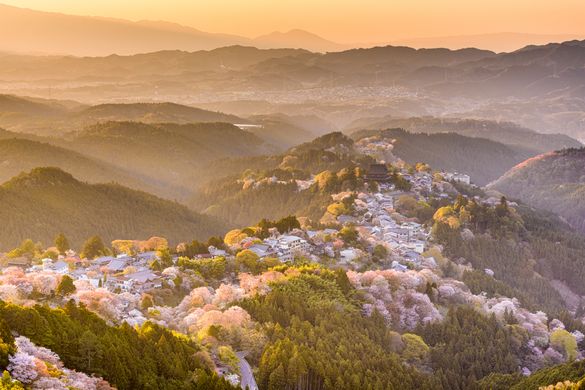 The Kansai region in the middle of Japan is home to some of the country's most iconic cities; Kyoto, Osaka and Kobe. These cities are abundant with rich history and culture that has been delighting the influx of tourists over recent years. Yet by venturing off the beaten path, visitors will find that this vibrant region has so much more on offer. Nara and Mie prefectures are perfect examples, and here is why they shouldn't be missed when visiting Kansai, Japan.
Stroll through the cultural heritage of Japan's old capital
Japan's capital city in the early 7th century, Nara is home to countless ancient structures and artefacts. Among them is one of Japan's most famous UNESCO World Heritage Sites, Todai-ji Temple where you can see the 16-metre Great Daibutsu Buddha statue, situated in Nara Park which is famed for its wild deer.
By extending your feet just that bit further, there is so much more to explore aside from these tourist hotspots. 10 minutes' walk south from Kintetsu Nara Station, you can find the traditional district of Naramachi. Step back in time as you walk through the streets admiring the atmosphere and traditional architecture that the district is overflowing with.
Nature lovers must make the trip to Mount Yoshino, one of the country's most alluring places to see the cherry blossoms. From late March to mid-April, you will be able to gaze at over 30,000 cherry trees that bloom along the mountain slopes. Autumn in Yoshino is equally as wonderful when the leaves change colour. After riding from Kintetsu Nara station to Yoshino Station, travellers can then take the Yoshino Ropeway up the mountain, while those who prefer a more active experience can hike to explore the hidden temples and shrines scattered along the way. For the perfect mountain getaway, stay overnight in one of the traditional ryokans equipped with mineral-rich hot springs.
Sacred Shrines and delicious street food found by foot
Located in eastern Mie Prefecture is Ise city, where you can find Japan's most sacred shrine, Ise Grand Shrine. It is said that it was first built around the 4th century BCE in dedication to the Shinto Goddess of the Sun. The shrine's complex contains two main building and over 125 smaller shrines that can be found when walking around Ise City. Ise Grand shrine showcases the simple beauty of Japanese architecture, with the unprocessed wooden structures effortlessly blending into the forest's towering cypress trees.
Thanks to pilgrims gathering at the shrine for hundreds of years, the area leading up to the shrine prospered and grew into a hub for those who made the journey to Ise. Today, the one-kilometre long stone-paved street of Oharaimachi is lined with delights for you to roam through. There are dozens of food stalls, restaurants and shops where you can purchase traditional craftwork and a variety of souvenirs.
Oharaimachi is also where you can find most of Mie Prefectures speciality gourmet delights – both sweet and savoury. Meat-lovers must try skewers of Matsuzaka Beef either deep fried or grilled with a sweet marinade. Being a coastal city, Ise's famed ocean delights include fresh oysters from Ise bay or the famous hand caught Abalone grilled with butter and soy sauce. If street foods are not your style, relax in one of the many restaurants in the area and treat yourselves to some sashimi, but make sure not to miss the decadent Ise-lobster. You can get to Ise Grand Shrine and Oharaimachi  in around 20 minutes by foot, or by a 10 minute bus ride from the Kintetsu Isuzugawa Station.
The Kintetsu Rail Pass gives travellers unlimited rides on all Kintetsu Railway lines for 5 days. Available for visitors from overseas at a discounted price of 3,700 yen, pre-purchase your passes online or buy at any Kintetsu Station in Japan.
For information on the pass, please visit:
https://www.kintetsu.co.jp/foreign/english/ticket/krp.html
–
About Kintetsu Railway
Founded in 1910, Kintetsu Railway was originally an electric tram system operating between Nara and Osaka. Over the past 119 years, the company has become one of Japan's largest operating railway networks that connects major cities in the Kansai region including Kyoto, Osaka, Nara, Nagoya, Tsu, Ise and Yoshino. For more information, visit: www.kintetsu.co.jp/foreign/english/
For Australia and New Zealand media enquiries, please contact Mihoko Kurosawa at m.kurosawa@thedoq.com or call 0498 651 422.
Follow and Share with Jetsettersblog.