Wonders of Walking With Ramblers Walking Holidays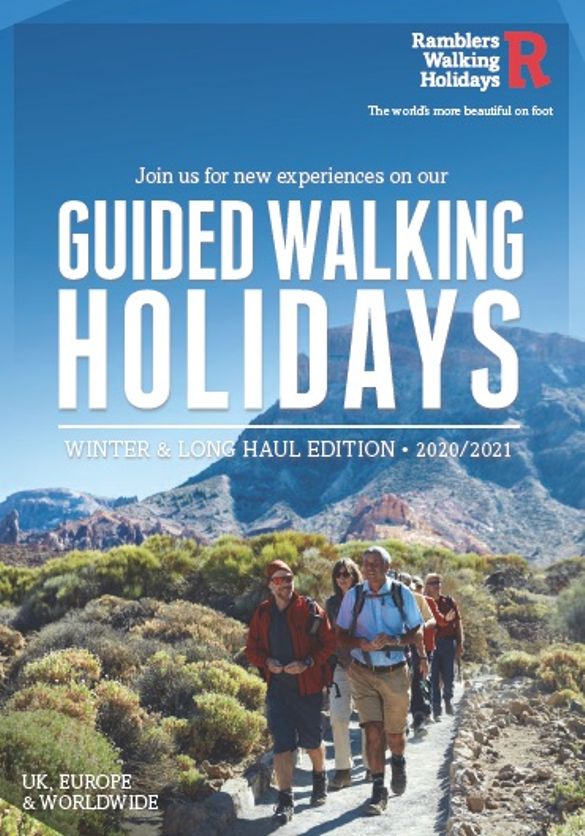 ---
*14 new holidays in 14 different countries *
*Specialist itineraries ranging from long haul adventures, winter sports, wildlife watching to winter sun*
*Two new Egypt holidays including a Nile Cruise*
* Good value for money with choice of 'No Single Supplement' and 'Combined Holiday' options *
Walking the Garden Route, snowshoeing in Arctic Finland and exploring the only long-distance walking trail in the Caribbean are amongst the adventures offered on fourteen new holidays from Ramblers Walking Holidays (01707 818705, www.ramblersholidays.co.uk) in their new Winter & Long Haul 2020/2021 brochure.   Featuring over 90 inspirational itineraries to amazing destinations around the world, the brochure, from the original small group, guided walking experience experts, spans five continents and sixty countries.  Other new highlights include walking in Ethiopia's Simien Mountains, on Four Faces of Ethiopia in Comfort: a fantastic city and wilderness combination on the French Quebec and New England itinerary and an exploration of Peru taking in the ancient site of Machu Picchu and Colca Canyon.  There are also two new Egypt holidays combining a Nile Cruise with experiences including a desert walk up to the Monastery of St Simeon and visits to classic Egypt historical sites.
Walking closer to home, favourite European holidays such as Spain's Orange Blossom Coast, Cretan Trails and Tavernas and Portugal's Emerald Coast, are complemented by a selection of eight 'Winter Spirit' holidays including three new itineraries.  Keen winter walkers can don a pair snowshoes to experience France's sunniest winter resort Font Romeu, walking through otherwise inaccessible winter landscapes, across undulating ridges and over frozen lakes on the new Font Romeu in the French Pyrenees holiday.  There is also the chance to explore the unimaginably beautiful winter wilderness of Aigues Tortes National Park on snowshoes on the new Snowshoeing in the Spanish Pyrenees holiday.  Alternatively, the new Snowshoeing in Arctic Finland itinerary, features walks through the incredible Riisitunturi National Park, the opportunity to snowshoe to the Russian border and walk under the magical Northern Lights.
Commenting, Kevin O'Regan, Managing Director, says: "Ramblers Walking Holidays offer a fantastic opportunity to combine exploring a wonderful destination, visiting places that can often be best appreciated on foot, with the exhilaration, sense of achievement and camaraderie that a group walking holiday brings.  In our new winter edition brochure, there are some incredible long haul adventures, featuring some of the world's most spectacular walks, whilst closer to home, we have included some of our favourite European holidays, which are easier to reach but equally memorable.  And with each trip complemented by knowledgeable and well-travelled leaders, there is always the opportunity to get away from the tourist trails for a more authentic walking experience that you won't find in the guidebooks."
'As a not-for-profit social enterprise, Ramblers Walking Holidays also have the added satisfaction of helping to give something back. We provide support to the places and communities where we operate and by financially supporting walking groups through The Walking Partnership and the Ramblers Holidays Charitable Trust."
Ramblers Walking Holidays offer exceptional value for money with many of the costs such as half board meals and any transfers included.  In addition, there are holidays for solo travellers with no single room supplement, combined two-week holiday options, 'Early Bird' discounts, a loyalty points programme and discounts for private group bookings.
Highlights of the new brochure include:
FOUR FACES OF ETHIOPIA IN COMFORT – NEW (moderate, grade 4) Experience Ethiopia's finest on foot, walking in the Simien Mountains, staying in Africa's highest hotel, the Simien Lodge, perched on the edge of an escarpment with expansive mountain views sloping down to grasslands cut by streams and gorges.  Uncover the country's fascinating religious history exploring its extraordinary rock hewn Lalibela churches and wandering around the lush surrounds of Lake Tana, the source of the 'Blue Nile' dotted with island monasteries. Get a taste for local life meandering through small villages, experiencing the ritual of a coffee ceremony and savouring exceptionally tasty and colourful food. Offering the chance to be truly immersed in Ethiopia's wildlife on ancient trails with sightings of Gelada Baboons, Walia ibex and Simien fox, there is also time to explore Addis Ababa and see the first ever recorded man.  Ramblers Walking Holidays (01707 818705, www.ramblersholidays.co.uk) 11 nights Four Faces of Ethiopia in Comfort starts from £2,820/person including return flights, internal flights & transfers, nine nights full board, local guide and local transport costs.  Departs 7 March and 4 April 2021.
SOUTH AFRICA: WALKS ALONG THE GARDEN ROUTE – NEW (moderate, grade 4) From shifting sand dunes to woodlands and expansive stretches of pristine coastline where whales can often be spotted frolicking in the waves, South Africa's Garden Route displays a wild beauty best explored on foot. Taking in the pick of coastal and country walking trails, start with a 'Big Five' safari spotting in Addo National Park, be immersed in lush forest hiking through in Tsitsikamma National Park, before venturing along the rocky coast of Plettenberg Bay.  Head inland from the cool sea breeze to the warm, earthy-red trails of De Rust and Oudtshoorn to visit to the Cango Caves and amble amongst the rolling vineyards on the Stellenbosch Wine Trail sampling the local flavours. Finishing in Cape Town, explore the city both from below and above the famous Table Mountain with visits to Boulders Beach and Cape Peninsula.  Ramblers Walking Holidays (01707 818705, www.ramblersholidays.co.uk) 15 night South Africa: Walks Along The Garden Route starts from £3,350/person including flights, transfers, most meals, safari game drives, entrance fees, local guide and all local transport.8 February, 1 March, 4 October and 15 November 2021 
FRENCH QUÉBEC & NEW ENGLAND – NEW (Moderate, Grade 4) Combining Canadian cities, American national parks and New England charm, tick off some great bucket-list experiences exploring on foot in French Québec and New England.  Contrasting diverse natural landscapes and dazzling fall colours with locally guided city walking tours, soak up the French influenced atmosphere of Québec before crossing the border into the US to hike in rugged wilderness.  Hike along scenic trails in the Baxter State Park and Acadia National Park on Mount Desert Island where the land, sea and mountains converge and walk a section of the world- renowned Appalachian Trail in the White Mountains National Forest. In the quaint alpine village of Stowe in northern Vermont, ascend Mount Hunger on a spectacular trail through a leafy woodland of burning reds and bright oranges for heady views of Stowe Pinnacle and Hogback peaks. Back in Montréal, meander through the streets of Old Montréal learning about Québec's rich heritage visiting iconic sights such as Notre-Dame Basilica, the City Hall and Bonsecours Market. Ramblers Walking Holidays (01707 818705, www.ramblersholidays.co.uk) French Québec & New England from £3,950/person including return flights, transfers, accommodation with most meals and all local transport costs.  Departs 12 and 20 September 2020; 21 May, 25 June and 24 September 2021.
DOMINICA – CARIBBEAN NATURE WALKING – NEW (Moderate, Grade 4) Get back to walking and nature on the island of Dominica, exploring its rain and cloud forests, volcanic craters and lush slopes, following some of the best sections of the only long-distance walking trail in the Caribbean, the Waitukubuli National Trail.  Designed by the local community to connect remote villages and spanning 115 miles, it offers an ideal way for immersing oneself in this relatively untouched island paradise.  With Dominica being one of the world's best places to see whales and dolphins, the trip also includes a boat trip and a cruise along the Indian River to spot the island's colourful indigenous birds and iguana.  There is also a Caribbean culinary cooking class paired with the opportunity to try a few tots of the local rum. Ramblers Walking Holidays (01707 818705, www.ramblersholidays.co.uk) 10 night Dominica – Caribbean Nature Walking is currently priced on request and will include return flights, transfers, half board accommodation, a local guide and local transport costs.  Departs 7 February & 5 December 2021.
FONT ROMEU IN THE FRENCH PYRENEES – NEW (moderate, Grade 5) Boasting an excellent snow record for winter activities and reputedly the sunniest winter resort in France, Font Romeu, a picturesque village set high in the French Pyrenees, offers great winter walking with an excellent choice of trails.  Don snowshoes to explore otherwise inaccessible winter landscapes away from the ski slopes accompanied by an expert local guide.   Cross undulating ridges and frozen lakes with expansive mountain views into nearby Andorra and Spain and relax at the end of the day in one of the town's popular tea shops or back at the hotel in the steamy hammam and hot tub. Ramblers Walking Holidays (01707 818705,  www.ramblersholidays.co.uk)  1 week Font Romeu In The French Pyrenees starts from £1340/person including return flights, transfers, half board accommodation, hire of snowshoes and poles and local transport costs. Departs 16 January, 13 & 27 February 2021.
SNOWSHOEING IN ARCTIC FINLAND – NEW (Moderate, Grade 4) Enjoy a week of snowshoeing on wintery white wilderness trails in Finland, the land of the Northern Lights, with an experienced local guide.  Offering the experience of being able to snowshoe under Aurora Borealis, other highlights include making fresh tracks through the magical snowy fell wonderland of Riisitunturi National Park, being immersed 360° in arctic wilderness, snowshoeing to the Russian border and a Finnish 'kota' for a traditionally cooked lunch around an open fire. Following busy days out on the trail, relax in a sauna – the perfect après sport Finnish institution.   Ramblers Walking Holidays (01707 818705,  www.ramblersholidays.co.uk) 1 week Snowshoeing in Arctic Finland starts from £1999/person including return flights, transfers, half board accommodation, local guide and local transport costs. Departs 27 February and 6 March 2021.
For further information, contact  Ramblers Walking Holidays, tel: 01707 818705,  www.ramblersholidays.co.uk
Follow and Share with Jetsettersblog.