Yukon: You Haven't Experienced Winter Until You've Tried a Northern One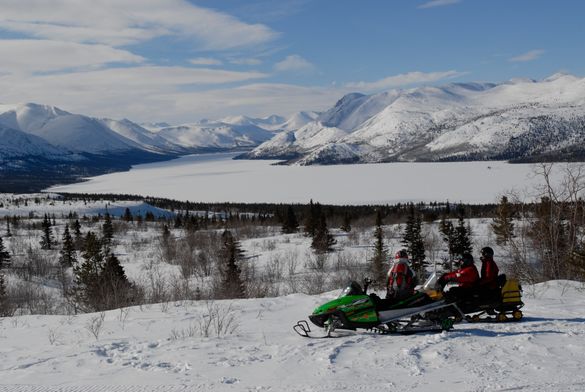 ---
Yukon aurora viewing combines just the right amount of excitement, inspiration and comfort. With next to no light pollution, the Yukon's dark star-filled skies provide the perfect backdrop for the aurora's magical dance.
Part of the fun of visiting in winter is experiencing some distinctly northern activities. Travel through a frosty winter landscape in the back of a dogsled, or for more speed, try a snowmobile. Make the catch of the day on an ice fishing trip or strap on some snowshoes and wander through the boreal forest. And at the end of the day, retire to a cozy wilderness lodge or cabin and keep your eyes on the skies. Or stay in downtown Whitehorse with easy access to restaurants and entertainment, and head out each evening to a custom built aurora viewing facility.
Klondike in the winter
With less than 5 hours of sunlight and temperatures dropping to minus 50, Dawson City has become a hotspot to view the northern lights on top of the midnight dome. It's also the only city where you can warm up with the finest human toe-infused whisky cocktail in the Yukon—and probably also the world.
Snowshoe the Yukon Wildlife Preserve
Winter is the season to step into a pair of snowshoes and trek through the Yukon Wildlife Preserve just north of Whitehorse. Here, you can get up close and personal to more wildlife than a nature documentary, but unfortunately with a lot less narration from David Attenborough. There is a small fee to enter the preserve, but you'll feel warm and fuzzy knowing it's supporting the injured and orphaned wildlife living inside.
Skating on Tagish Lake
Tagish Lake is over 100-kilometres long, and when it freezes over, there's enough ice for all of Yukon to get the world's largest skating lesson. While you're there, you might also come across a friendly fisherman reeling in his dinner, a dog team practicing turns, or the next Elvis Stojko hitting perfect quad lutz triple toe combinations, spin after spin after spin.
First Nations Culture
Long before central heating was invented, the Yukon First Nations were not only surviving in below zero conditions, they were thriving in them. Being skilled hunters and gatherers, they followed the seasonal changes in food sources and used stories to pass that valuable information onto the next generation. If you're in Whitehorse, head indoors to the Kwanlin Dün Cultural Centre and learn about the past, with the heaters on high.
Celebrate Yukon's Wintertime Revelry
February is the 'hottest' time of year in Whitehorse – for festivals that is! Try northern traditions like can-can dancing and chainsaw chucking at the Yukon Sourdough Rendezvous. Watch the legendary Yukon Quest International Sled Dog Race, or attend the Available Light Film Festival. Prepare to join the fun for days of unforgettable entertainment as you discover the authentic, unpretentious Yukon. Meet Yukoners, learn about local traditions and share a story or two at one of Yukon's lively winter events and festivals. 

Yukon Quest International Dog Sled Race (2 – 16 February, 2019) – Experience the thrill of the world's greatest sled dog race. yukonquest.com
Available Light Film Festival (2 – 10 February, 2019) – Canada's largest feature film festival North of 60. yukonfilmsociety.com
Yukon Sourdough Rendezvous Festival (8 – 24 February, 2019) – Celebrating Yukon's tenacious, frontier spirit. yukonrendezvous.com
Artisan Travel  offer a 7-night 'Dog sledding in the Yukon – following the Yukon Quest' trip from £2,497 per person. Other lodge based packages also available. For more information contact 01670 785085, info@artisantravel.co.uk or visit: artisantravel.co.uk
Follow and Share with Jetsettersblog.