Zulal Wellness Resort Enhances Wellbeing in Qatar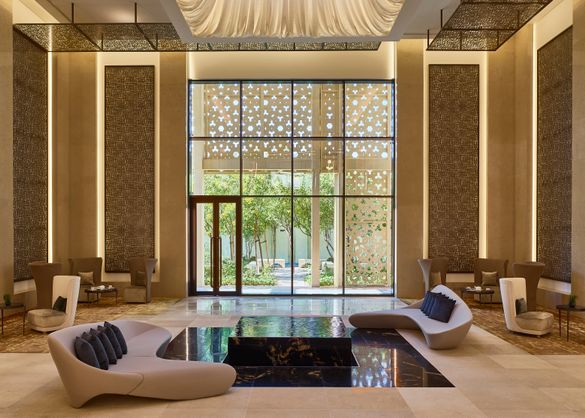 ---
Zulal Wellness Resort by Chiva-Som will be the first full-immersion wellness destination resort in Qatar, and the largest in the region. The resort is managed and operated by world-renowned Chiva-Som International Health Resort, which since launching 25 years ago, has won global acclaim. Aficionados of the Thailand flagship will immediately recognise the design hallmarks that have ensured its reputation as world-class.  As at Chiva-Som, Zulal Wellness Resort is firmly rooted in the local culture. This is reflected throughout the distinctive design and architecture, ensuring it is an integral part of guests' experience. Brought to life by Qatar's premier master developers, Msheireb Properties, Zulal Wellness Resort was conceived and inspired by the integration of natural elements, land, sea and shelter, whilst retaining an inextricable connection with the Qatari landscape.
An evolution in holistic awareness has led to the application of wellness design in hotels and resorts, targeting the development of architecture and landscape to improve guests' mental health and wellbeing. Msheireb architectural and design team commented, "Zulal's design concept is a reflection of its mission to promote wellness while still staying true to the Qatari landscape. The vision of Zulal is human-centric, and we made it a priority to combine elements that are natural and man-made. The beauty of Qatar's heritage can be found throughout the resort, from materials and colour schemes to patterns and textures, all of which are interwoven into the resort."
Located in the private coastal region of Khasooma to the north of Qatar, Zulal's architecture draws heavily from the principle of biophilic design, incorporating natural materials and elements of its coastal desert setting into indoor spaces, from the use of gravel and sand as well as textured concrete paving. The wellness-focussed design aims to strengthen guests' connection to nature and draw on the salubrious effects of the natural world; principles that are known to reduce stress, blood pressure levels and heart rates, whilst increasing creativity and overall wellbeing.
Earth tones accented by blue hues and shades of traditional wood can be found throughout the resort's rooms and living spaces to create contemporary places of relaxation, whilst light and airy interiors reflect the clarity and purity of its picturesque landscape. Inspired by its name, Zulal translating to 'purified water', the implementation of majestic sea water lagoons and oases can be found throughout the resort to evoke a sense of tranquillity and serenity.
Seamlessly blending into its backdrop, Zulal has been designed to reflect the surrounding sand dunes, tinted with the cool and neutral shades of the desert with elegant cool beiges and hues of ash. Pathways are engraved with Sidr leaves, a tree known for its valuable healing properties and effectiveness in relieving anxiety, and windows carved with the famous Mashrabiye pattern which is traditionally found in Arabic and Islamic architecture carved in geometrical shapes in wood latticework or on stained glass windows. Landscaping will feature ponds and water features arranged around a series of choreographed serene shaded walled gardens; a narrative inspired by memories of sea-bound travellers finding welcoming shelter in local villages.  The courtyard typography will offer selected views of the desert beyond whilst retaining the feeling of seclusion and protection of the village. To further blend harmoniously with its coastal desert setting, Zulal will utilise salt-tolerant and local plants such as the 'Avicennia Marina'; one of the largest and oldest mangrove species.  Qatar is one of the Middle East's conservatory landscapes for these unique trees and, supporting the belief that environmental and personal wellness go hand-in-hand, Zulal is committed to the preservation and afforestation of these mangrove environments.  Guests at Zulal Wellness Resort will be encouraged to visit the resort's beach-front walkway and Mangrove Education Centre, a major environmental conservation project to promote scientific understanding and appreciation of nature.
Staying true to Chiva-Som's core principles, the resort will operate sustainably and adhere to environmentally friendly practices, such as minimising the use of single-use plastics, utilising organic produce and locally developed speciality products, energy conservation and the implementation of water preservation technologies. A medicinal and health-giving plant palette was derived from Zulal's holistic treatment menu.
Health and wellness are at the core of Zulal's identity, ranging from holistic health practices and spa treatments, to interconnected rooms to foster stronger connections with families, to honouring the Qatari culture rooted in the balance and wisdom of nature. Exceptional facilities will set a new standard for health resorts the world over, featuring fully integrated holistic programmes that encompass traditional healing principles alongside state-of-the-art international treatments.
For more information about Zulal Wellness Resort by Chiva-Som, please visit www.zulal.com or email info@zulal.com.
-ENDS-
About Zulal Wellness Resort by Chiva-Som
Zulal Wellness Resort by Chiva-Som is a unique wellbeing haven, brought to life by Qatar's premier master developers, Msheireb Properties. Set to be Qatar's largest wellness destination, and the Middle East's first wellbeing resort, Zulal is expected to be a major tourism transformation driver, bringing the world's attention to Qatar and the region. Located in Khasooma, a private coastal location to the north of Qatar, Zulal Wellness Resort brings visitors a luxury experience, offering the highest international standards that are inclusive of local family values. Zulal is an Arabic word which means 'pure natural water' and is used to reflect the rejuvenating properties of the natural water found in the desert. Zulal Wellness Resort offers two venues for health and wellbeing. Adults can access a wide range of therapeutic and lifestyle enhancement treatments based upon traditional Arabic and Islamic wellness principles through the destination. The Family Wellness Resort enables families to enjoy positive wellness experiences together, inspiring young children and their parents with fun, interactive activities that help them learn more about adopting a healthy lifestyle. Zulal Wellness Resort offers guests unique services and treatments, which are based upon Islamic wellness principles and use indigenous ingredients to the region.
About Msheireb Properties
A national real estate development company and a subsidiary of Qatar Foundation established as a commercial venture to support the foundation in achieving the Qatar National Vision 2030. The company aims to enrich people's lives and improve the overall quality of how they live, work, and thrive by creating modern, innovative, and authentic developments.
Msheireb Properties partnered with industry leaders and experts in order to align the architectural lessons of the past with the latest in eco-friendly technologies, in order to employ a new approach to urban planning; one that combines traditional methods and modern technology to preserve the environment as well as the cultural identity of Qatar.
An emerging leader in sustainable development, Msheireb Properties' new language is used to create buildings of a shared DNA, reviving local heritage and culture through a unified architectural idiom. Its signature project, Msheireb Downtown Doha, is developing a blueprint for sustainable urban regeneration. Msheireb Properties received ISO certification from the British Standards Institution for quality
(ISO 9001:2015), environmental performance (ISO 14001:2015), occupational health and safety (BS OHSAS 18001:2007), and Risk Management Standard (ISO 31000:2009).
About Chiva-Som
For more than 25 years, the company behind the award-winning Chiva-Som has been a pioneer in transformative wellness practices to global acclaim. Its commitment to an innovative, holistic approach which expertly balances mind, body and spirit, continues to this day with its flagship resort in Hua Hin, Thailand and the latest addition to the Chiva-Som family – Zulal Wellness Resort in Khasooma, Qatar.
Optimal, bespoke wellness lies at the heart of each Chiva-Som experience. With its unique synergy of indigenous traditions and evidence-based wellness, Chiva-Som partners with guests on highly personalised wellness journeys focused on complete lifestyle transformation. At the new Zulal Wellness Resort these extend to the entire family.
Guests are motivated throughout their journey by knowledgeable and caring staff, who address their goals with the unique heart of Chiva-Som Hospitality.
Chiva-Som's genuine approach to wellness extends to the wider community, with educational opportunities and global sustainability initiatives at the core of everything the brand does.
A few recent awards include:
 'Best Destination Spa' – Condé Nast Traveller The Spa Awards 2020 (UK)
'Best Destination Spa'- Condé Nast Traveller The Spa Awards 2020 (UK)
'50 Climate and Sustainability Leader' – Bloomberg 2020
'Best Coastal Operation'- Travel Daily 2019 Travel & Tourism Sustainability Awards (Australia)
'1st in Best Spa'- Traveler's World Magazine 2019 (Germany)
'Top ranked Asian Spa in Top 20 Destination Spas'- Conde Nast Traveler The Readers' Travel Awards 2018 (UK)
'Top 5 Favourite Destination Spa'- Condé Nast Traveler Reader's Travel Awards 2018 (India)
'Thailand's Best Wellness Retreat 2018'- World Spa Awards (UK)
'#13 of Top 25 in Asia, Best 100 Spa List'- Condé Nast Traveler (China)
'Green Era for Sustainability Award'- Otherways Association Management & Consulting Awards 2017
'Medi Spa of the year' - Asia Spa Awards 2017
'Outstanding Wellness Spa Destination in Thailand' – Asian Lifestyle Tourism Awards 2017
'Top 6 of the Best Overseas Luxury Health and Wellness Property 2017 (1st Runner up)' – Luxury Travel Award (Australia)
'Best Global Wellness Resort of the Year' – Spa China Awards 2017
For further press information or images, please contact:

Follow and Share with Jetsettersblog.